About Us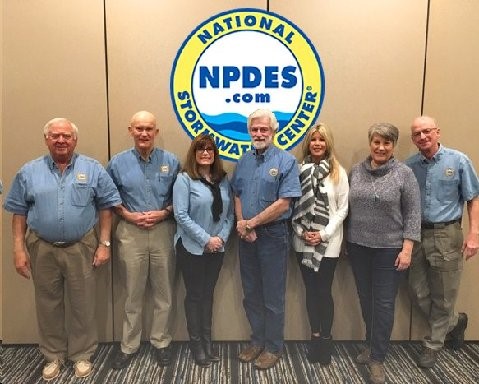 From Left: John Whitescarver, Dan Ahern, Michele Lomax, Fred Heitman, Laurie Murphy, Marcia Willhite, Paul Davis
The mission of the National Stormwater Center is to improve our nation's water quality. We believe compliance with the National Pollutant Discharge Elimination System results in clean water. We promote compliance by training volunteers, university level students, and Permittees, and by offering Permittees tools to assess the effectiveness of their programs.
John Whitescarver, QEP, CSI
After serving for 10 years on the EPA team that developed the NPDES program, John continues as a national expert in NPDES policy. He was an EPA advisor, a consultant to industry, and an expert witness.
J. Fred Heitman, CFP, CSI, CEI
Mr. Heitman was head of Water Quality Enforcement Oklahoma Water Resources Board. He was responsible for directing all NPDES enforcement actions, citizen pollution complaint investigations, and emergency response actions for the Agency.
Dan Ahern, PE
Dan managed a progressive SW Utility and relationships with 4 municipalities to protect water resources in a coastal county experiencing considerable growth. Budget for Utility exceeded 4 million and was focused on implementing a comprehensive Stormwater Management Plan.
Paul Davis, PE
Paul was employed at the Tennessee Department of Environment & Conservation, Division of Water Pollution Control, where he was the division director. The division's responsibilities included water quality planning, monitoring, permits, compliance review, coal and mineral mining, oil and gas, inter-basin transfer, enforcement, emergency response.
Jeff Hutton, B.S.
Jeff served as an Environmental ProtectionSpecialist for the Illinois EPA for 34 years. He reviewed and issued municipal sewage permits, water treatment plant sludge permits and NPDES permits for municipal wastewater treatment plants. This included participating in the drafting and issuance of new NPDES General Permits for Storm Water Discharges from Construction Site Activities, MS4 communities and Industrial facilities.
Gianna Castro, PE
Gianna has worked independently as an Environmental Consultant and Industrial Hygienist for the last 20 years. Her work includes Stormwater Pollution Prevention Plans, Spill Prevention Control and Countermeasure Plans, Permits (various), Treatability Studies for water treatment design, and HAZCOMs, as well as Occupational Exposure Determinations, Indoor Air Quality studies, and Respiratory Protection Programs, for clients all around the island, among others.
Bob Gross, PE, DEE
Mr. Gross is intimately familiar with laws, rules, and regulations dealing with water activities, and has an excellent working knowledge of the other media programs. He has experience in water quality standards, options assessment, permit negotiations, compliance strategies, pretreatment programs, stormwater programs, site investigations, and treatment alternatives.
Laurie Murphy, M.S., CSI
Laurie is the Executive Director and Waterkeeper for Emerald Coastkeeper Inc. in Pensacola, Florida, one of over 300 Waterkeepers globally positioned with Waterkeper Alliance. She has a bachelor's degree in Oceanography and a Master's Certification in Geographical Information Science. As a citizen action group, her responsibility is to locate, identify and enforce violations of the Clean Water Act.